How to Rewrite 150 Word Product Descriptions in 10 Minutes
Latest Content From the Crowd
How to Rewrite Product Descriptions
Step 1 – Preparations (Research)
These are easy texts to write. If you are efficient, these texts should be quick to write as well.
Your text is simply a rewrite of the very same text that you have in your template. It should be marked with a yellow background, and this indicates that all of the text needs to be rewritten. You, of course, will need to keep the name of the product/company, but all other information and words need to be changed. We recommend that you use an online thesaurus to help you with other verbs, adjectives, etc. Also, click on the source link to get an idea of what kind of texts this is. When you open your template, it will look like this: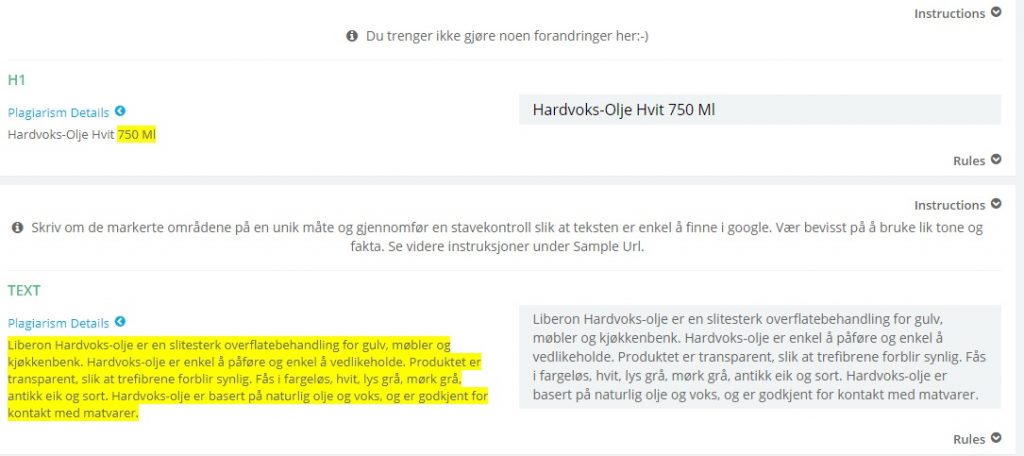 On the left, you have the "problem" you need to fix – the marked text. Now, read the instructions and follow them.
Step 2 – The rewrite
As mentioned already, the rewrite is important to do properly. You need to keep the language, and tone professional as this is a text that will go directly towards influencing sales – or it could be an information text on the company web site. So you need to do it properly. A good tip when you rewrite a text is to find an online dictionary and thesaurus where you can get help to find other variants of the words. The main rule is that 80% of the text has to be original.
Step 3 – The text
You will need to be smart when you rewrite as there are some instances and opportunities when you can leave the text as it is, and not complete a rewrite.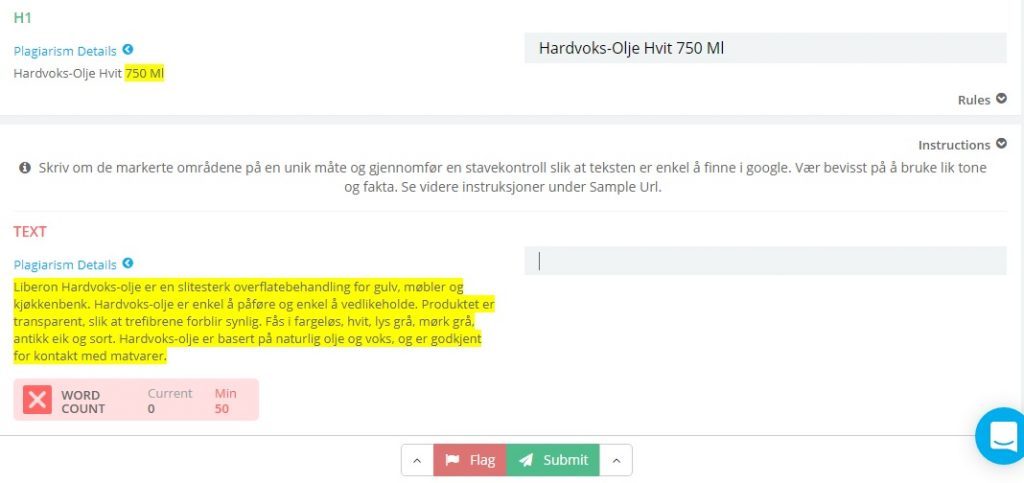 In this one, you can quickly change "3L" to "Three liters" for example, and it will mean the same thing. "Size" can then be left alone, as long as you remember to keep at least 80% of the text rewritten.
Step 4 – The tone
Keep in mind that you will need to keep the same or similar tone in the rewritten material. That is why it is important to use the source link in the background, together with an online dictionary and thesaurus. Remember not to use too many positive adjectives or verbs, as it will look too enthusiastic and unprofessional.
Good luck!